Montréal: Plateau District; Topographic Views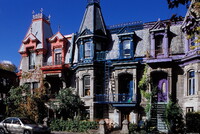 Date
2007
Description
View of Victorian houses on Square Saint-Louis; Montreal's Plateau district is a colorful and trendy neighborhood and can be found along the north / south axis of St. Denis Street and St. Laurent Boulevard, close to Mount Royal Avenue. The Plateau is a densely populated district, with many historic areas, including cobbled streets and 19th-century homes. Prince Arthur Street and the Duluth Avenue are notable areas in the Plateau district, for both strolling and eating. Source:
Type of Work
topographical view

;

photograph
Subject
architectural exteriors, business, commerce and trade, cityscapes, contemporary (1960 to present), dwelling, leisure, recreation, neighborhoods, Twenty-first century
Rights
© Scott Gilchrist, Archivision, Inc.
Rights Statement
Licensed for educational and research use by the MIT community only
---
Collections